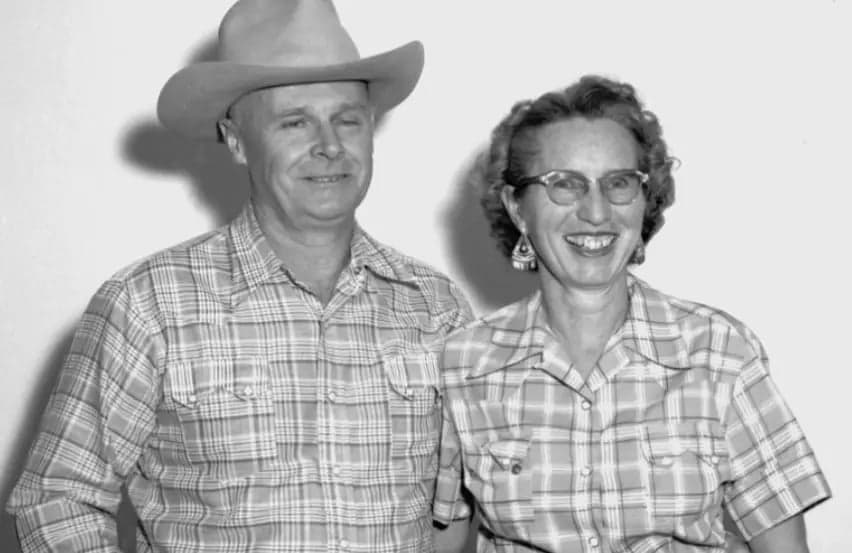 Photographer John DeVere Helfrich
John DeVere Helfrich was born in the village of Lamonta Oregon on April 16, 1902, to John and Minnie Helfrich. His grandparents had homesteaded in nearby Prineville in 1880.
John married Helen Grace Reed in 1926.
John took up rodeo photography in 1939 after having owned a furniture store, ice cream parlor, and working as a surveyor. John and Helen spent the 1940s, 50s, and 60s on the rodeo circuit traveling to rodeos and roundups in Washington, Oregon and California.
While most postcards in circulation are rodeo action shots taken by John. You may also stumble upon cards featuring Helen's work. Helen focused on staged photos of the riders and managed the printing process in the Helfrich's mobile print lab.
John's photos are outrageously fun. Common topics are bull riders or bucking bronco riders in mid-air as they are thrown to the ground. Others include horse teams or roping competitions. The postcards show these subjects up close and in action. He had knack for capturing the very moment when the drama was at it greatest.
Notes and market conditions from North West Postcards
Real photo postcards photographed by DeVere Helfrich are reasonably common as John and Helen sold reprints in bundled sets. Prices on eBay range from $5-25. In the PNW it's not uncommon to find several of these mixed into many collections. Although there is not great demand for DeVere's work at this time, we always enjoy finding a DeVere as they are beautiful photos that display the passion of the rodeo riders of the 40s, and 50s.
We also find lithographic cards from the Helfrich's on occasion. These cards are much less compelling and lack gritty detail that make the Real Photo cards so unique.
Additional Reading
Ditman, Barbara. "DeVere (1902-1981) and Helen (1907-1989) Helfrich." Oregon Encyclopedia, Aug. 9, 2022. https://www.oregonencyclopedia.org/articles/helfrich_devere_1902_1981_helen_helfrich_1907_1989_/
Allen, Mike. "He's the 'Dean of Rodeo Photography'." Daily Record (Ellensburg, WA), August 17, 2007. https://www.dailyrecordnews.com/news/he-s-the-dean-of-rodeo-photography/article_8958d301-58a5-5c46-a014-5e772ffb6cf8.html
Example Postcards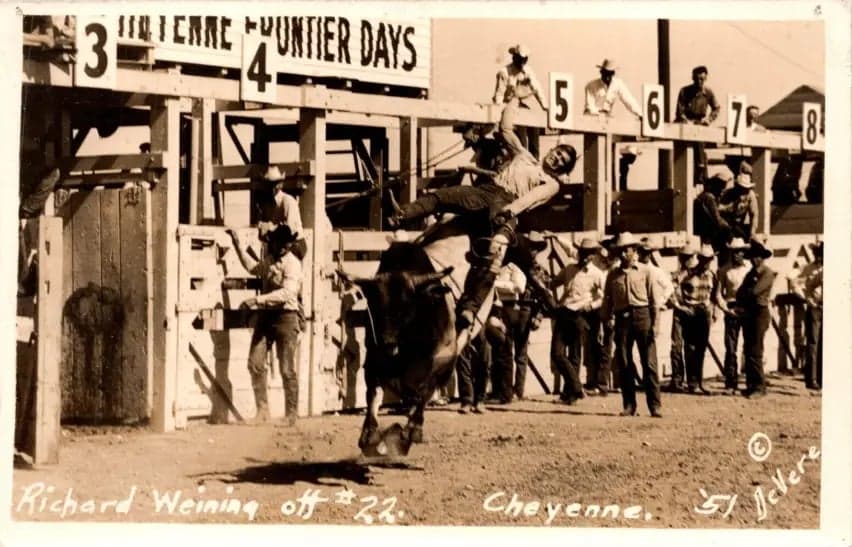 Subject: c.1951 Richard Weining bucked off #22 in Cheyenne.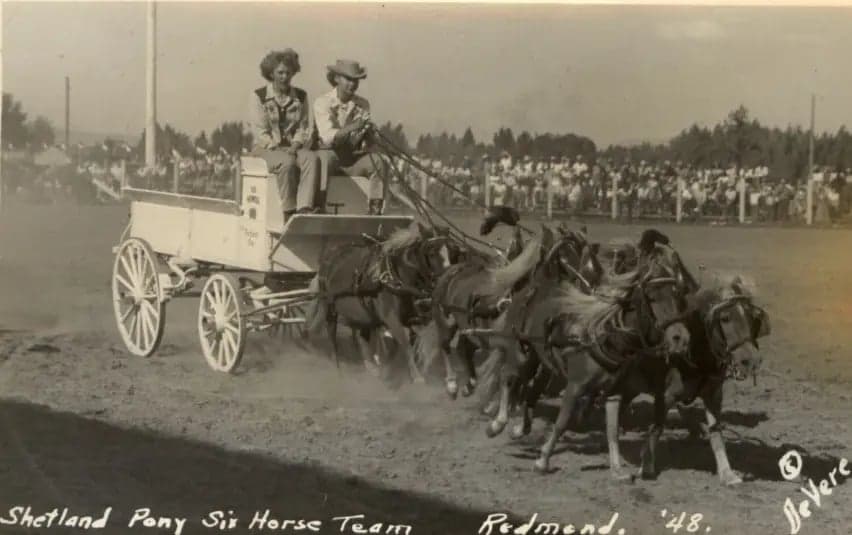 Subject: c.1948 Shetland Pony six Horse Team Redmond California.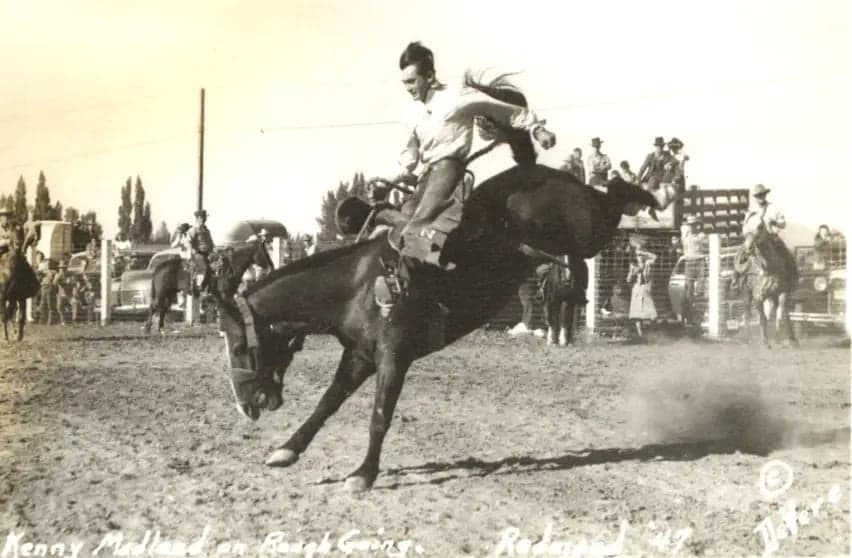 Subject: c.1947 Kenny Medland on Rough Going in Redmond California.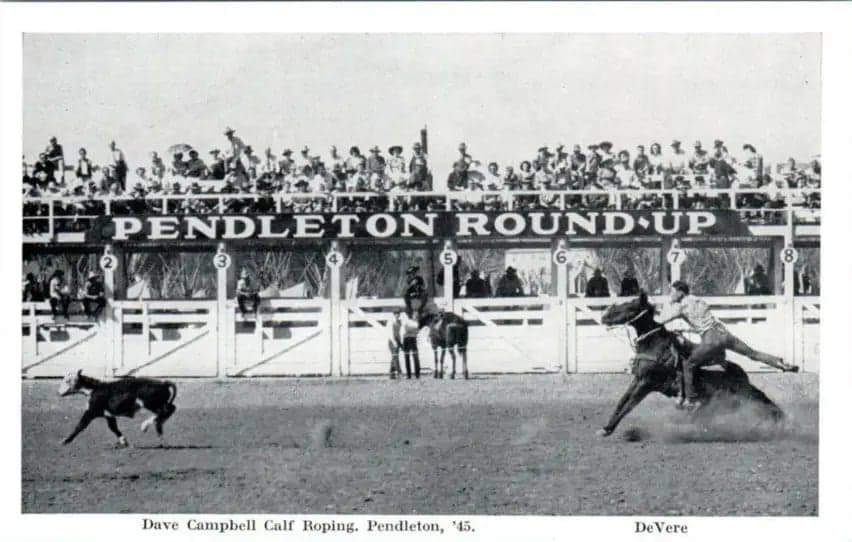 Subject: c.1945 Dave Campbell Clf Roping in Pendleton Oregon. (a printed lithographic card)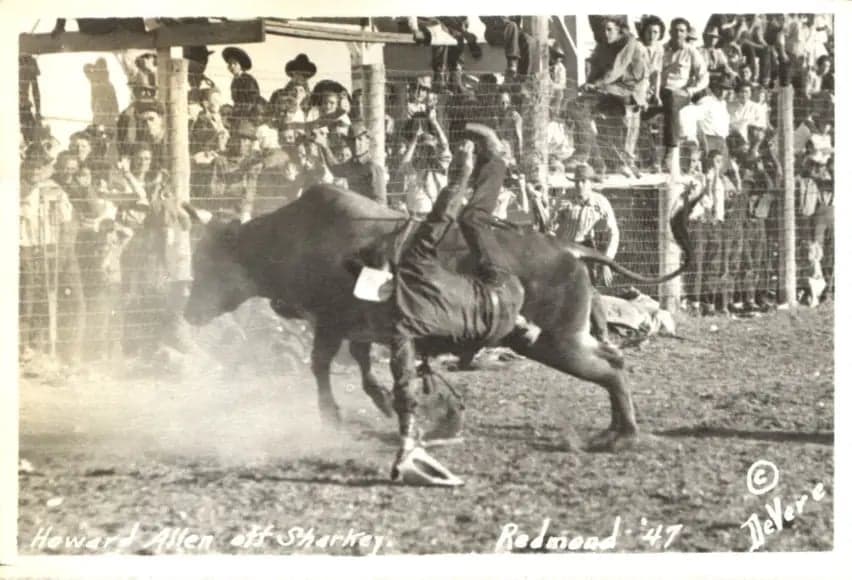 Subject: c.1947 Howard Allen off Sharky in Redmond California.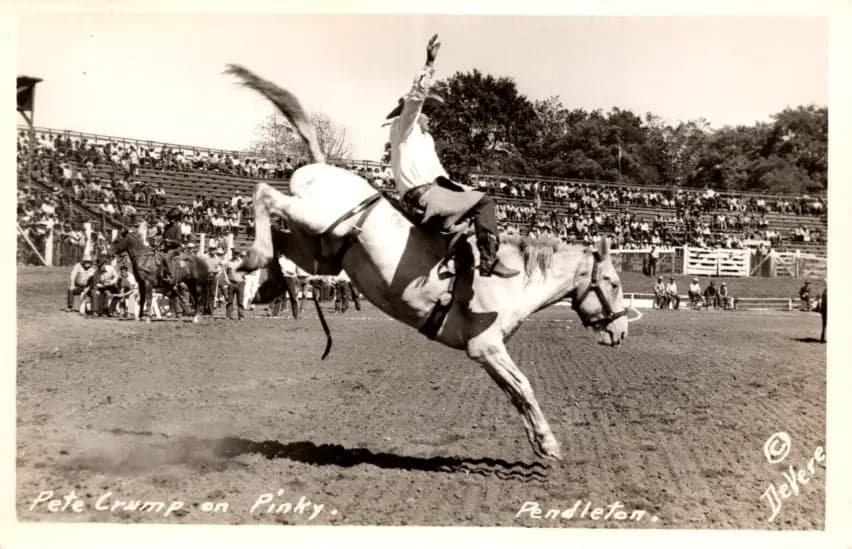 Subject: Pete Crump on Pink in Pendleton Oregon.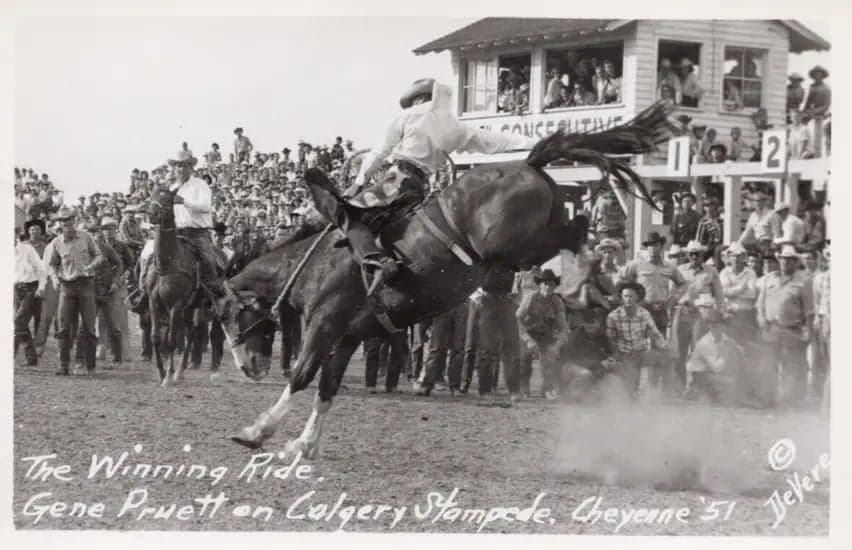 Subject: c.1951 The winning Ride Gene Pruett on Calgery Stampede in Cheyenne Wyoming.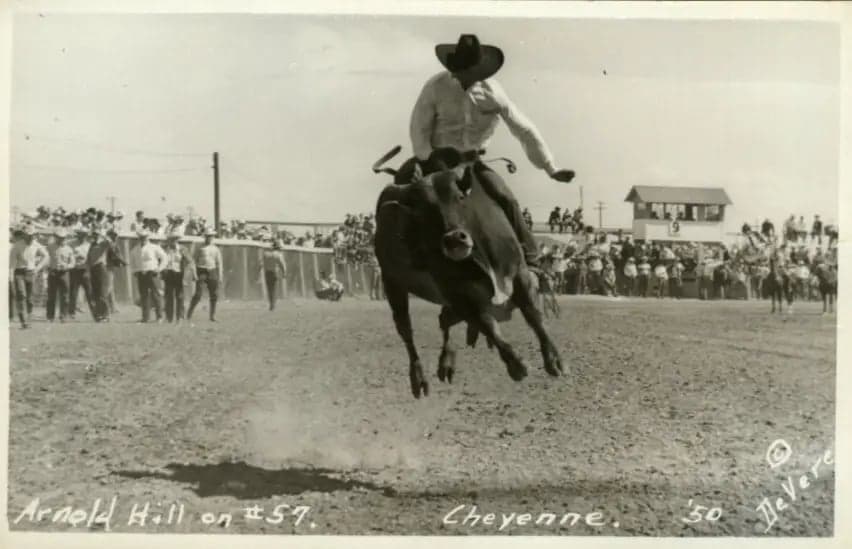 Subject: c.1950 Arnold Hill on #57 in Cheyenne Wyoming.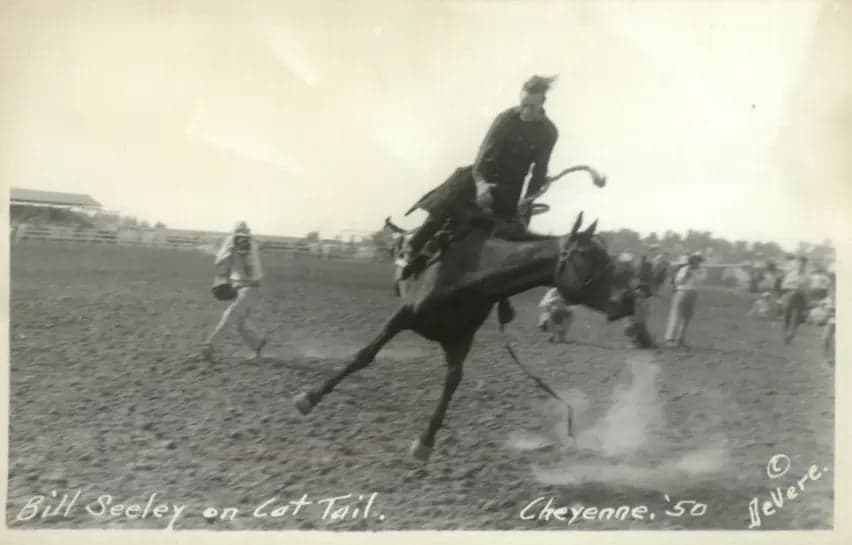 Subject: c.1950 Bill Seely on Cat Tail in Cheyenne Wyoming.